Can you believe it's Fall?? Crazy right… well, take a deep breath because I have put together an amazing guide to Halloween Activities in Temecula and the surrounding communities. It's ALL right here in one place so you can sit back and relax!
The ULTIMATE GUIDE to Halloween in Temecula & Murrieta – 2019
Pumpkin Patches
1. Peltzer Farms (Temecula/ Wine Country)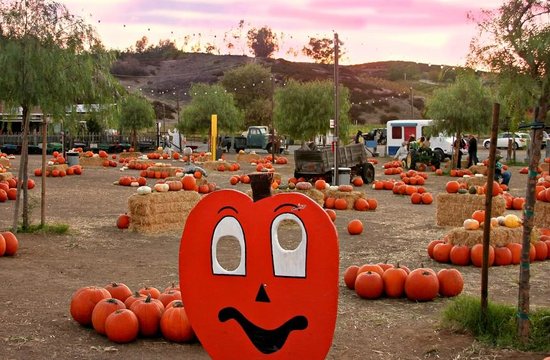 Peltzer is one of our family favorites with its country chic vibe that is absolutely perfect for the Fall. They have a fun corn maze, train rides, a cute petting zoo, and face painting. Most importantly they've got pig races and they are so fun to watch.
This year Peltzer Farms has what might be the most frightening haunted house we have been to. Cannibal Creek is terrifying so if you have trouble dragging your older kids to the pumpkin patch, let them know about the new Haunted House!
2. Pick of the Patch & ABC Farms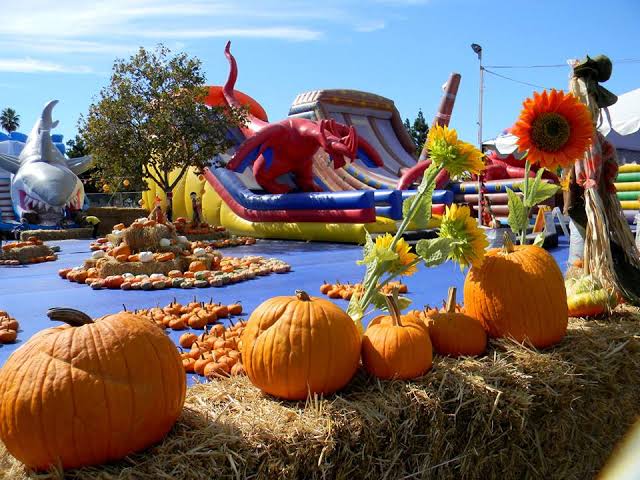 Pick of the Patch Pumpkins and ABC Tree Farm- This is the perfect place for family traditions to be born because they have a pumpkin patch in the Fall and then sell Christmas trees in the Winter. This patch is located right near Rancho Community Church in Temecula, but they have locations in Oceanside, Lake Elsinore, and San Clemente as well. Check out their website to see their Monday and Tuesday coupons. Find out more on their website
here
.
3.Pumpkinland Pumpkin Patch (Temecula/ Promenade)
Pumpkinland Pumpkin Patch is located right in the Promenade Mall parking lot and is super convenient, even open 7 days a week. It has all the carnival games, inflatable rides, and crafts you expect to find at a pumpkin patch.
4. Toms Farms (Corona)
The pumpkin patch at Tom's Farm is open nearly every day in October and while they offer the Fall activities you would expect, they also offer all their normal amenities and attractions.
5. Julian Mining Co. (Julian)
Julian Mining Co- Just 200 yards south of the Julian Mining Co. lies their pumpkin patch full of 1000's vine-ripened pumpkins of all varieties, meaning you can find just the right one. Parking is free and they're open Friday-Sunday. It's the perfect place to grab that yummy apple cider that makes cold fall days feel just right and pick up some pumpkins. See their website
here
.
6. Riley's Farm (Oak Glen)
Riley's Farm is famous for its u-pick apples during the fall but they also have PUMPKINS!! See their website for details
here
.
7. Bates Nut Farm (Valley Center)
Bates Nut Farm is as classic as it gets, which is to be expected because they have been in business for over 50 years. Everybody gets to grab a wheelbarrow and head out to the field to find their perfect pumpkin. There's great BBQ, food trucks, and tons of different activities. Check out their family fun packages to get the most out of your day. See their
site
for details.
8. Del Mar Pumpkin Station (Del Mar)
Another larger-scale pumpkin patch. The Pumpkin Station in Del Mar features giant slides, an antique carousel, a petting zoo, a game zone & more. Check out full details on their website
here
Festivals & Carnivals
1. City of Temecula- Halloween Carnival
When: Friday, Oct 25 from 5:30-8:30 PM at Ronald Reagan Sports Park
What: Come out and enjoy the city of Temecula's Halloween Carnival. It's just $5 a wristband which gets you unlimited games and prizes. Don't forget to dress your best for the costume contest! Bring an empty bucket along so you can fill it up with all their treats.
2. City of Murrieta- Fall Festival
When: Saturday, Oct 26 from 5:30- 8 pm at California Oaks Sports Park
What: Join the city of Murrieta in celebrating Fall with carnival games, food vendors, candy, and prizes. Wrist bands are just $3.
Details: Call (951) 304-PARK for more info.
Churches
1. Rancho Community Church
When: Thursday, Oct 31 from 6-9 pm for Special Needs families and 7-9 pm for the general public
What: Stop by the Rancho Community Church for their October Extravaganza on Halloween night for a fun alternative to trick or treating. They say they'll have lots of candy and tons of activities.
Special Events
For Little Kids:
1. Apple Head Carving Lab/Pennypickle's Pumpkin
When: Throughout October at Temecula Children's Museum
What: Check out Pennypickle's Facebook page for details so you don't miss out on these wacky fun events. Nothing is spooky or scary at these events just be ready for the mad scientist. For details
click here
.
2. Apple Festival/Halloween Wacky Workshop: Children's Museum
When: TBA
What: Toy with tons of hands-on fun and wacky experimentation as we play with monsters, robotics, electricity, and all things Frankenstein-ish at our L.I.F.E. Laboratory extravaganza to celebrate the 200th anniversary of the publication of Mary Shelley's masterpiece! Nothing is spooky or scary at these events just be ready for the mad scientist. For details
click here
.
3. Spooktacular Dog Walk at the Promenade Mall
When: Dates: October 26th
What: Get your feel-good on by joining this fundraising walk with the whole family, even your pup! Your dog will get a doggie treat bag and there will be plenty of treats for you too. There's a costume contest for the best dress owner and pet duo. Don't forget to
register online
.
4. Big Horse Corn Maze
When: Sept 28th through Oct 27th, Saturday and Sunday from 10-4, Tuesday-Friday 1-5
What: Big Horse Feed and Mercantile holds a great harvest festival throughout October, but they are best known for their 11+ acre corn maze. Check out their website for the weekend themes, like All American and Old Fashioned Farm Days. Check their
website
for details.
5. Valley-Wide Recreation Center
When: Tues. Oct. 31st, 5-8 pm
What: 2017 Spooktacular- Halloween Carnival Games, Candy & Jumper Fun. Free admission.
6. Boo-mont Park San Diego
When: Every Friday, Saturday, Sunday in October + Halloween at Belmont Park
What: You just can't miss out on Zombie Laser Tag here at Boo-mont. They've got trick or treating, costume contests, crafts, and tons of attractions. Don't forget to grab a pumpkin spice funnel cake while your kiddos run around.
Temecula Haunted Houses & More – For The Young At Heart
1. Fear Addiction Haunted House in Vail Headquarters
Fear Addiction Haunted House is the real deal! Be prepared to be scared! Presented by Factory of Terror, the guys who know scary! Master of Ceremonies Spade Cooley, welcomes you to Ace of Spade Transport and Storage where the motto is "We hunt you down for business"! Located on Temecula Parkway in the Vail Headquarters.
2. Sinister Valley at Storm Stadium
This haunted maze comes to us from Chris O'Keefe whose father did haunted houses for years. For the past, 7 years Chris has had a haunted house out of his home and would get 3,000+ people visiting it each year! Last year, they haunted the Vail Headquarters, and This year it's bigger as it heads to Storm Stadium. Guests will travel through the maze, an abandoned mine shaft. The maze takes 7-15 minutes to go through depending on how scared you might be. Prices are $12 for Thursday & Sunday $15 for Fri & Sat.
3. Vail Lake Haunted House + Mile Long Haunted Trail
By-Tri-valley entertainment. Recommended ages 13+ although there are other activities for kids that are not scary. Friday and Saturday 7-10:30 or 11:30 pm. There is also a Music & Dancefloor every night. Prices $10 for parking + $10 per attraction.
4. Mansion of Lost Souls
Stop by the Promenade Mall after dark to attend Temecula's newest haunted attraction. Walkthrough the home of a doctor's family home, and find out what really went all wrong one fateful night. Details are found
here
.
5. Haunted Trail Balboa Park
If you want to experience Balboa Park in a whole new way, wind your way through twisted pines and oaks of their haunted trail after dark. They set up a maze over 3,500 square feet and leave creepy characters lurking around every corner. Check their
website
for details.
6. The Harvest Motel Escape Room in San Diego
3rd Day Escape Rooms offers 3 different escape room experiences, but the Harvest Motel is specifically horror-themed and perfect for Halloween fun that will surely give you the chills.
7. Haunted HayRide at Vail Lake
These haunted hayrides at Vail Lake have been going on for over 15 years. Check their Facebook to stay updated on this year's details.
8. Coffin Creek Haunted Attraction in Corona
This haunted attraction is not for the faint of heart, but it is one of the best places for a fright in Southern California. There are 5 separate attractions right here in this Corona spot! Check their
site
for details.
9. Teen Pumpkin Plunge
Send your teens over to the Community Rec Center to swim and watch a movie after dark. The featured film will be Beetlejuice and it byof (bring your own floatie!). Details TBA!